The Gartner AI Hype Cycle™ 2022 outlines the key innovations in AI technology and techniques that go beyond the everyday AI already deployed to add intelligence to currently static business applications, devices, and productivity tools.
The Hype Cycle for Emerging Technologies is unique among Gartner Hype Cycles because it identifies key insights from more than 2,000 technologies and applied frameworks that Gartner profiles each year into a succinct set of "must-know" emerging technologies and trends. These technologies and trends have the potential to deliver a high degree of competitive advantage over the next two to 10 years
According to Gartner, Causal AI includes different techniques (…) that help uncover causal relationships to improve decision-making. The prediction is, it will (probably) take 5 to 10 years for Causal AI to reach mainstream adoption, but the business benefits are expected to be high. It enables new ways of performing horizontal or vertical processes that will result in significantly increased revenue or cost savings for an enterprise.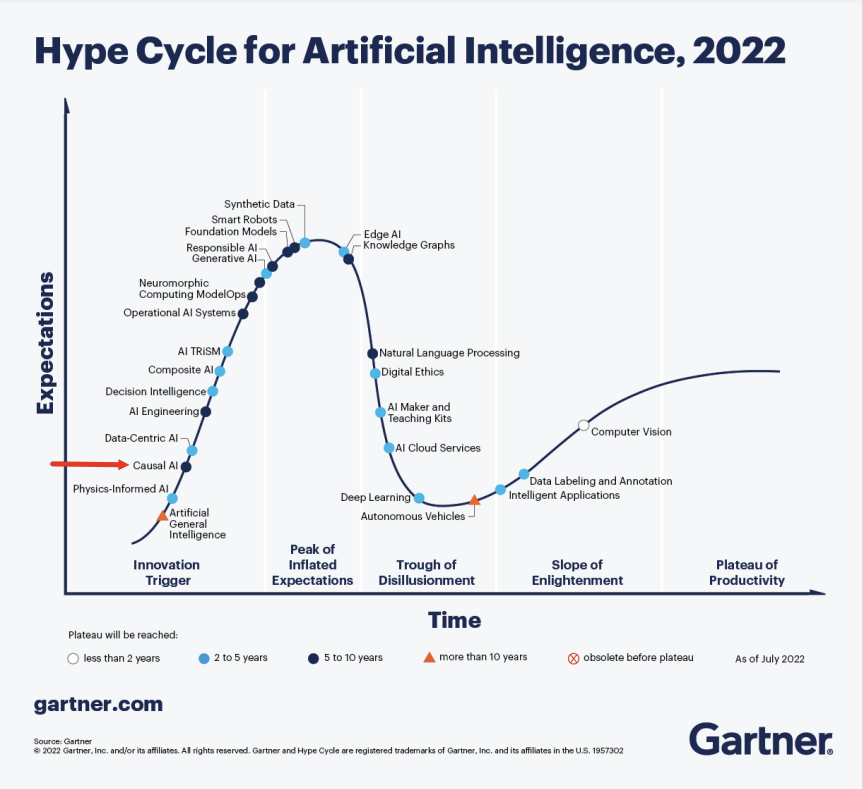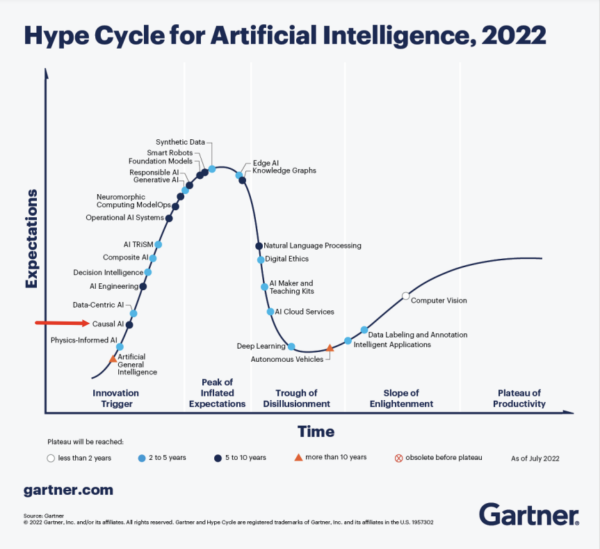 Gartner identifies a number of benefits of Causal AI, including:
Efficiencies from adding domain-knowledge to bootstrap causal AI models with smaller datasets
Greater decision augmentation and autonomy in AI systems
Better explainability by capturing easy-to-interpret cause-and-effect relationships
More robustness and adaptability by leveraging causal relationships that remain valid in changing environments
Reduced bias in AI systems by making causal links more explicit
Causal AI is a key enabler of the next wave of AI, where AI moves toward greater decision automation, autonomy, robustness, and common sense.
Read more from Gartner on AI, Causal AI and the Hype Cycles 2022:
Blog: Use Causal AI to go beyond correlation-based prediction
Article: What´s new in AI from the 2022 Gartner Hype Cycle
Press Release: Gartner Identifies Key Emerging Technologies 2022